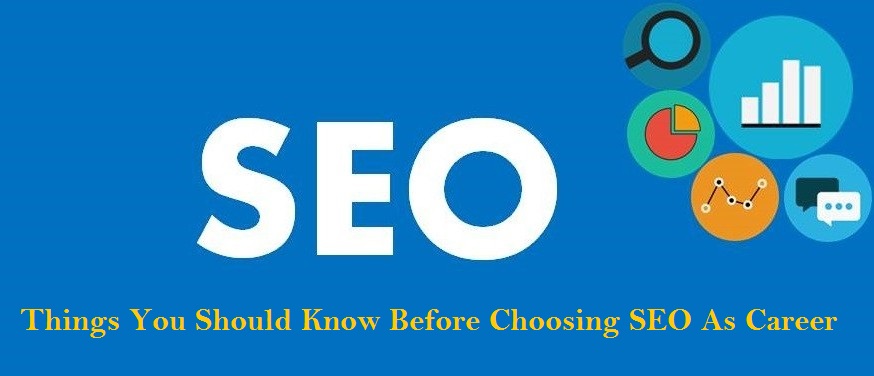 "Is SEO the right career option for me ?"
This question is very common among all individuals who are thinking of starting their career OR want to change their present career path to SEO (Search Engine Optimization). Sometimes, I get lot of queries like this. I would like to address this query in detail to help all of them. First, I would like to say that whether it is SEO or any other career, you should be totally dedicated to the career without any second thought in mind of changing it in future. This will help you to succeed in the career you have chosen.
What is SEO
Before I tell you about this career option and its good sides and bad sides, let me tell you What is SEO. SEO is abbreviated as Search Engine Optimization. This is nothing but optimizing an website in such a way that Google, Bing, Yahoo and other major search engines can crawl through the site easily, listing the website and show them in the search results on the first pages so that the search results can drive organic traffic to the website. The more the site's webpages show for number of search terms, also known as 'keywords' , it will drive more organic traffic to the website, thereby initiating the conversion on the website.
Best Qualities To Become As SEO
A successful SEO professional must have these qualities in him/her to become successful in future.It maybe that you don't have these qualities right now, but must try to have them if you are serious with your future as an SEO professional :
Presence Of Analytical Mind
Having an analytical mind is not so hard as you may think now (if you don't have). It is one of the most important qualities, a professional must have to survive in the SEO industry. Any SEO job done must be strategically executed. The strategy must be developed after lots of research and analysis of trends, data and the website.
English Language
Most of the SEO projects these days are for English websites. So, I will suggest that to brush-up your English language knowledge if you have decided to get into SEO profession.Whether you are creating, checking or testing something, you should make sure that the English you used there is perfectly alright with perfect grammar. I will say, in SEO field no mistake in terms of using English as language is acceptable, as it directly affects the present SEO steps in future.
Stay Up To Date
You must know that SEO is a very dynamic field. Google's search algorithm is changing every now and then. Sometimes it is predictable sometimes it is not.So it is a always suggested to keep track of latest developments in the fields of SEO and search engine algorithm. So be an SEO professional who is always in search of new things in the field of SEO.
Knowledge Is Not Limited
I have seen many SEO professionals who used to come to me for getting advanced training on SEO, that they used to work in a limited way as per the knowledge which they gained long back. This knowledge may be obsolete at present OR may be soon going to be obsolete. Every SEO project is unique and some unique set of issues which are needed to be solved with unique strategies only. These strategies may sometimes align with some of your previous SEO jobs, but you should not compare the present project with any previous project.If required, you may need to experiment few SEO strategies which may assume to work best in the present scenario.These experiments may be Out-Of-The-Box and may not match any of you past projects OR you might not have read before.
Salary Should Not Be Important For A Fresher
I know that everybody is concerned about how much they can earn from a career like SEO. But, I must say that at the very beginning of your career,you should not focus much on salary. Being a fresher, you must focus on the opportunity of learning about the field for next 2-3 years. After you add a minimum 2-3 years of experience then you can ask for a certain amount of salary based on your experience and expertise. Still, you salary as an experienced person strictly depends on your expertise even if you have long years of experience. For example, a person with 4 years of experience with high expertise in SEO field gets more salary than a person with lesser expertise but 7 years of experience. So count on your expertise and know-how rather than experience. Then your salary will automatically get in the range of 5-6 lakhs/annum for 5-6 years of experience. But it all depends as I mentioned.
Wrap Up
My thought behind this article is to make all new and upcoming SEO professionals like you, aware of the of the SEO sector and how you can stay ahead of competition. If you have any thoughts regarding the SEO profession, please write in the comments, below. I will response. If you dont want to share your queries to all, please reach me over here.
Things You Should Know Before Choosing SEO As Career
Debopratim Das is an experienced Digital Marketing professional and consultant. He helped many companies and brands from across the globe to gain huge exposure using Digital Marketing. He is the Blogger, Researcher and Chief Editor at Pratwords.com