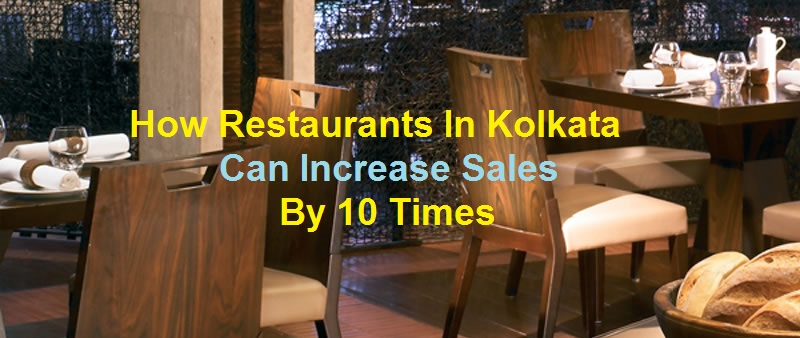 Present Status Of Restaurants In Kolkata
The restaurant business sector in Kolkata have grown in a very fast pace in last 4 years. There are more than thousand restaurants across Kolkata including small, takeaways and five stars. Competition is too high. Every restaurant is facing a tough time to increase their sales. Some have their existence on online channels like social media sites, website and online travel agencies or "OTAs". Most of these are available for free but, official website and OTAs are paid. Few restaurant owners are not even aware of the benefits of their online existence, so they are loosing even bigger percentage of sales, say almost 80% sales.
During my research and survey of the restaurant sector in Kolkata, I came across the following categories or restaurant  based on their online and offline presence :
Category – 1: Restaurants With No Online Presence
Restaurants under this category are loosing a HUGE chunk of sales, everyday. They primarily serve regular and one-time guests from within 2-3 KMs range of their location. They existed for a long time and have good name in their locality. They primarily do marketing through word-of-mouth and some with small banners. The owners are not so well aware of new technologies and modes of marketing.
Category – 2: Restaurants Who Are Present Online But Not Active
Restaurants who are from this category have adopted the latest marketing methods and technologies with a target to get more sales. They dont have any professionally experienced person appointed for the online marketing purpose. They adopted it because because Either they heard that online presence bring more sales Or the OTAs approached them to get enrolled with their platform. Due to their illiteracy of online marketing, branding and reputation management methods, they are loosing almost 60-70% sales, every month.
Category – 3: Restaurants Present Online & Active But Lacks Best Practices
Restaurants who fall into this category are maintaining their online presence on social media, website and OTAs, very actively. BUT, they dont follow best practices in their services and guest handling within their premises. Even if they receive red-flags from existing and old guests on social media and OTA reviews, still they dont take necessary measures which eventually increases their negative reviews on these online channels. is all results into reduced sales. Restaurants in this category are loosing 30-40% sales, which is a BIG loss.
Category – 4: Restaurants Present Online,Follow Best Practices But Lacks Innovation
Restaurants who are in this categories, have appointed an experienced digital marketing professional to manage Customer Relationship (CRM), Public Relationship (PR) and Online Branding & Reputation (OBR), like in five star restaurants and restaurant chains. In Kolkata, the number of Five Star restaurants and restaurant chains have increased and competition is high. All of them manage Digital Marketing, CRM, PR and OBR in a very planned and professional way. So, they are competing with each other in a neck-to-neck manner. None of them are able to get a large number of sales compared to the other in a sustainable way. I found the reason behind is the lack of innovation, out-of-the-box thinking and creativity in their Marketing and Guest Management.
Solutions
I would like to mention that, each and every restaurant business in Kolkata have their own and unique operational policy. Solution to increase their individual's sales need unique ideas and solution which will not match each other and cannot be generalized. But, I will suggest certain techniques and ideas which are general to all and if implemented can increase their sales, hugely. For personalized unique ideas and solutions for your restaurant business, you may reach me.
Let me discuss the solutions, elaborately :
Create Your Online Presence
Being a restaurant owner, you must remember that 95% of your new and existing guests checkout online reviews about your restaurant, before they decide to come to your restaurant for dinning. So, get yourself on social media websites, Google Maps and OTAs. The ideal social media websites for restaurants are :
As far as OTAs are concerned, the ideal ones which I found for Kolkata's restaurants, are:
For submitting your restaurant to Google Maps, please let me know.
Be Active & Always Stay Connected On Online Channels
 Restaurants who are already present on social media sites and OTAs, make sure your are active on all of them and continuously monitor them all for any positive OR negative reviews and remarks. Both of them are equally important. During my research, I have observed that many restaurants dont bother to respond to these reviews. I will say, that you are loosing a golden opportunity to get connected with your existing guests through these conversations.
If a guest places a negative review/remark, dont panic. Try to find out the reason behind, from the guest and from your staff. Be humble in your conversation during any intense situation. Always remember that "Guest is God" (Atithi Devo Bhava). Always provide a solution, even if you bear loss, that will change the mind of the annoyed guest, and convert him not only into a returning guest but also an advocate of your restaurant brand. it will help to attract more guests through him/her.
If you receive a positive response, never forget to appreciate the feeling of the guest and express that you wish to serve him/her again in your restaurant in future. Always try to WOW your guests so that they feel special at your restaurant and always feel to return back.
 Be Professional And Follow Best Practices
Being a restaurant owner, to stay ahead of the competition, it is very important to stay highly professional and maintain best practices to ensure utmost guest satisfaction. Whenever you receive any negative remarks/reviews on OTAs and Social Media, try to find out the most appropriate solution that will solve it ASAP and make sure that the same fault never occurs again. Whatever way your guests get treated in your restaurant, it will reflect in their reviews/remarks on online channels.
Mix Your Marketing (online & offline) With Innovation
All luxury restaurants and restaurant chains maintain high standards of services to maintain complete guest satisfaction. So, the competition is high. Its important for them to mix their marketing (online & offline) practices with innovations that engage their targeted guests. The restaurants who are able to WOW their guests with innovative solutions and techniques along with best professional services, are able to get loyal guests who also become their brand advocates.
Increasing Sales Through OTAs
Online Travel Agents or OTAs plays an important role to generate huge sales for restaurants. But, they used to charge commission, ranging in between 20-30% for their services and solutions, which is really a very big hit to profit margins. I am researching on a tested procedure to reduce this loss from OTAs and will shortly be coming up with an in-detailed article on it.
But, to increase the profit from the sales through OTAs, it is important to get increased number of sales through them. I can help you on that. OTAs are like search engines for hotels and restaurants, which shows the list of 10-15 restaurants on each of their result pages. The position of the restaurants on these result pages depend on various criteria, like :
Overall Ratings based on the total number of positive and negative reviews.
Total Reviews
Day and Time of operation.
Cost
Cuisine
Type Of Food
Votes
Bookings/Order Placed
Most of the above mentioned criteria can be selected by the users through filter or combination of filters.The criteria 3,4,5 and 6 can be manually selected by users during their search, so they cant be controlled. But, being a restaurant owner, you will have to enter all these details so that people can find your restaurant during their searches.
Criteria That Can Be Maintained To Increase OTA Rankings
Let me tell you about the criteria which can be be maintained to get better ranking on OTA for any filter.
Overall Ratings
The overall ratings is in the range of one star to five star. The overall rating is the resultant average rating of all low and high ratings given by reviewers. I will suggest to maintain high standards of guest satisfaction, so that they give high ratings on OTAs.
Total Reviews
The number of total reviews and percentage of positive reviews among them plays an important role in getting good rankings. I will suggest to restaurant owners that along with highest standards of guest satisfaction, make sure that they must enter their reviews on the OTAs. If a restaurant provides high guest satisfaction but the guests dont enter enter their positive reviews OR any reviews on the OTAs, then the restaurant really loosing good opportunities.
Votes
Just like Total Reviews, Votes are also important. The more votes you get, the more likely you will get better rankings.
Number Of Bookings/Orders Placed
I have observed that the more number of bookings/orders are placed through an OTA for a given restaurant in past, the more likely they rank higher.
Featured
This is a paid option in all OTAs. Restaurants can stay at the top of the result pages of the OTA as "Featured" by paying a specific amount to the OTA for a specific period of time. Restaurants need to be very strategic to get the best ROI out of this investment.
Unique Strategic and Innovative Marketing
As discussed earlier, the unique strategic and innovative marketing  (online & offline) techniques are needed to be introduced by luxury restaurants and restaurant chains to stay ahead of the competition. These innovative marketing techniques are formulated after :
In-depth analysis of guests' behavior, likes and dislikes,
In-depth analysis of competitors,
Advanced planning of all upcoming events (corporate, social and national) for next 6 months
Understanding of upcoming trends
Others
Through this mode of marketing, restaurants can increase their sales upto 15-20% for any given season. I provide the same solution for any restaurants in Kolkata. You can reach me over here.
 Wrap Up
I hope the suggestions and tips that I mentioned will help various restaurants in Kolkata to increase their sales in between 20% -80% based on their category. For any unique and customized marketing  and branding (online and offline) consultations, I am right here to help.
Please share your valuable thought and views in the comments below. They are highly appreciated.
How Restaurants In Kolkata Can Increase Sales By 80%
Debopratim Das is an experienced Digital Marketing professional and consultant. He helped many companies and brands from across the globe to gain huge exposure using Digital Marketing. He is the Blogger, Researcher and Chief Editor at Pratwords.com