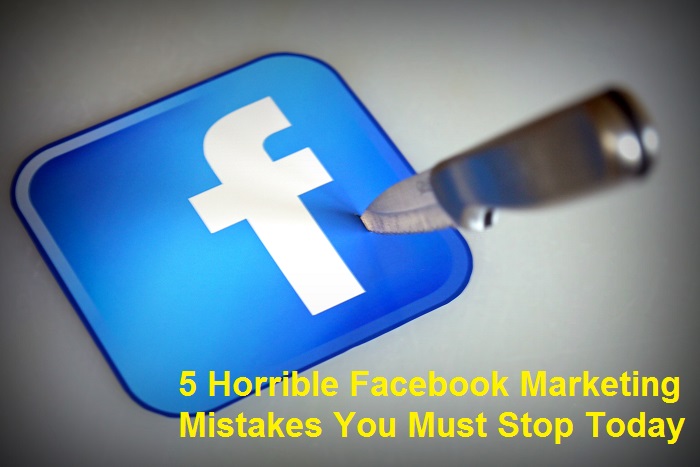 Importance Of Facebook Marketing
We all know that, how important Facebook Marketing is for any business, who want to target B2C customers. If it is used in the most meaningful way that results into getting targeted customers onboard, that make sense. But, I feel really annoyed and get pissed off when I find various below-standard digital marketing professionals practicing these 5 Horrible Facebook Marketing Mistakes that they must stop immediately. With these practices they are just wasting time and money of their clients, who trusted them to provide good results. I prefer to say that these illiterate digital marketers are dumb-heads who dont understand what they are doing and why they are doing. They are just fooling around and getting paid for that. Ridiculous!
5 Facebook Marketing Mistakes
I will suggest to stop using the following Facebook Marketing practices TODAY to get the best long lasting benefits out of your Facebook Marketing initiative.
1. Using Irrelevant Photo As Profile Picture
This is a very common practice on Facebook. Social Media Marketing professionals use photo of a Hot/Sexy looking woman, movie actors and celebrities as their profile picture. Through this trick, they try to attract users to their page/account. Did you hear me mentioning "Trick"? Yes, it is a trick and a very cheap one. Dont you feel that? Users get attracted by the photo and later when they will find unwanted and irrelevant shares from this account/page on their facebook feed, they will un-friend/un-like it. What is the benefit of getting these types of Likes & Friends , then? Useless. Just waste of time and money.
2. "Like" & "Share" Exchange
This is another cheap method of getting huge number of irrelevant and useless Likes and Shares on Facebook. On the way of getting maximum number of 'Likes' and 'Shares', Facebook marketing professionals ask their counterparts to like and share their pages and posts, in return of which they will do the same for them. This is really a bad practice. The likes and shares only grows in numbers. They dont provide any desired productive results like leads, sales or brand advocate.
3. Post and Share Hijacking
This is another cheap Facebook marketing trick which people should immediately get rid off. Sometimes, when an illiterate Facebook marketing professional finds that a particular post/share is getting viral, he/she start commenting on it with similar posts and links which he want to promote. This is really a bad practice and unethical. Users who already participated on the viral post, start admitting this post as topic-changer and that creates a real bad impression on whatever off-topic promotion was done as well as on the Facebook marketer himself.
4. Spamming
This is an old cheap Facebook marketing trick but still exists, even if users never liked it. The in-experienced Facebook marketers are champion with this. They think that this brings lots of likes and shares. But, Alas! It never result anything better than bullshit. You will often find that when a topic is viral or just started which seems to get viral and interesting, these illiterates start commenting on them with completely irrelevant promotional links and content. Its a complete waste of time and result into negative marketing that drives users away from the given promotion.
5. False Personification – A Fraud
This is the cheap Facebook marketing trick that I dislike the most. I hope you too. Dont you? This is rather a fraudulent marketing tactic rather than a trick, I must say. Facebook marketing professionals used to create profiles with other famous well known celebrities' names, photos and details. The fans and followers of these famous celebrities and personalities get attracted. Then these frauds start promoting and sharing products and businesses through these profiles. Till the time when the followers understand that the profile is not of the real celebrity/personality, which they believe was, they were already being trapped to like and share what the fraud desired.
Wrap Up
Pratwords and myself, would like to suggest you (if you are doing) to stop all above mentioned junk Facebook Marketing activities. Other marketing methods may be tough and more time consuming but they bring stable , long lasting and good results. Dont you think? Please share your thoughts.
5 Horrible Facebook Marketing Mistakes You Must Stop Today
Debopratim Das is an experienced Digital Marketing professional and consultant. He helped many companies and brands from across the globe to gain huge exposure using Digital Marketing. He is the Blogger, Researcher and Chief Editor at Pratwords.com